Le Viet, the high-style Vietnamese bar/restaurant on the edge of the Italian Market, has unloosed a line of finger foods, including sweet and tangy wings, summer rolls and the Le Viet Slider you see here.
It's a sandwich of grilled beef, pork, chicken or shrimp, served on a steamed bun with carrots, scallion, cucumber and hoisin sauce. And only $2 each.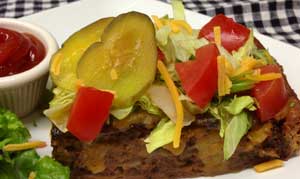 Cheeseburger pie? Everybody's doing cheeseburgers. Not too many people are making pies. But Holly Ricciardi has rolled out a cheeseburger pie at Magpie artisan pie boutique, 1622 South St. She combines seared ground sirloin and sharp Wisconsin cheddar, and tops it with iceberg lettuce, tomato and dill pickle slices for $9.50. And no, the photo does not do it justice.
Ice cream for all. Tempt fate (and a brain freeze) both Saturday and Sunday at the Super Scooper All-You-Can Eat Ice Cream Festival at the Walnut East parking lot at Penn's Landing, 101 S. Columbus Blvd., from 10 a.m. tp 6 p.m. You pay $7 to enter, and proceeds benefit the Joshua Kahan Fund, fighting to cure pediatric cancer.