In the ye olden days (say 30 years ago), a fireplace in a restaurant was a romantic notion - a harking back to the era of the country inn.
Now, not so much.
Fireplaces in today's restaurants are more set pieces. Take Jones at Seventh and Chestnut, or Hawthornes at 11th and Fitzwater, or the bar area at The Mildred at Eighth and Christian. During this cold snap, fireplaces are worth seeking out - if not for warmth, then for conversation.
See our image gallery for some of our favorite fireplaces in the area.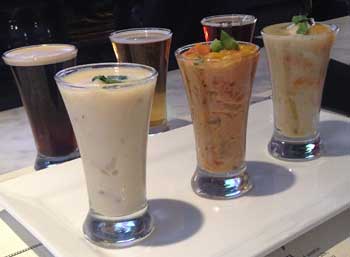 Free chowder! It's hard to get warmer than soup. And it's hard to beat free. The Doc Magrogan's Oyster Houses in West Chester and University City have rolled out 4-ounce flights of chowder - New England Clam; Spicy Maryland Crab, Tomato and Butternut Fisherman's - by chef Karen Weinstein. They're a buck a shot and the first one is free during the five-week promotion. They're also sold by the cup for $4, by the bowl for $5.
Doc Magrogan's, 17 E. Gay St., West Chester, 610-429-4046, and 3432 Sansom St., 215-382-3474.
Chillly? You around Saturday afternoon? The Pub on Passyunk East hosts its fifth annual chili cook-off from noon to 3 p.m.; $5 buys you warmth. Info is here.
Chef to watch. Will Zuchman spent lots of time in Douglas Rodriguez's kitchen before landing as the executive chef at Alma de Cuba in Rittenhouse. The West Philadelphia native, recently named a chef to watch by StarChefs, has revamped the appetizer menu at Alma. That king crab empanada you see at left - beside a pool of papaya vinaigrette for a splash of color - is joined by Octopus Escalivada and Duck Casabe, a yucca pizza with confit duck, fig, black truffle, manchego cheese and torchon of foie gras. These and other dishes all over Alma's menu are gluten-free. More photos are here.
Alma de Cuba, 1623 Walnut St.
Bistro in Manayunk. What was Gemelli for a year and a half is now Bisou. Chef-owner Clark Gilbert wants to simplify, and so he has instituted a French bistro menu. There's a lovely red-walled bar and open kitchen on the first floor, a scenic seating area on the third level, and a cozy, fireplaced lounge on the mezzanine. That's the sea scallops with pork belly and parmesan risotto from the menu, which you can browse here.
Bisou, 4161 Main St., 215-487-1230