Two restaurant weeks are closing out: Tonight (Friday, Sept. 27) is the finale of Center City District Restaurant Week, where $35 buys you a three-course dinner. Sunday, Sept. 29 is the wrap of Main Line Restaurant Week.
Sunday happens to be National Coffee Day, and the freebies and deals are astounding. (See here.)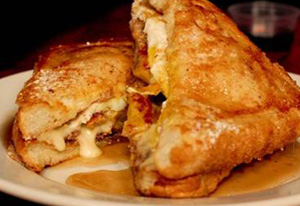 Weekend brunch starts Sunday at Lucky's Last Chance in Manayunk, which has been racking up awards this year (first place at Burger Brawl for their PB & Bacon Burger, and a silver medal at the Hot Diggity/South Street Headhouse District's Dog Days of Summer Hot Dog Cook-off). Star item is the breakfast burger, which brings you French Toast-style Texas Toast wrapping up a cheeseburger, a fried egg, and country sausage. Sort of a Monte Cristo on steroids. (Photo at right by Marcos Espinoza.) Also drool-worthy: the porkroll express dog, which is a hot dog made of pork roll, wrapped in cheese and topped with an over-easy egg; and the pumpkin pancakes, which are aided and abetted by the addition of Southern Tier Pumking to the batter.
On Saturday, get out to the Back to School Block Party on the 2000 block of Catharine Street from 3 to 7 p.m., which will raise funds for the Chester A. Arthur Elementary School and South of South Neighborhood Association there wil be a 50/50 raffle, beer, food trucks (Schmear it, Phoebes, Milk & Sugar), kids activities, local sweets (Kermit's Bake Shoppe, Magpie, Honey's, Ants Pants, Miles Table, and Rita's).
The Montco crowd is grooving to the homespun Mexican grub at the newish El Limon (38 E. Butler Ave. i Ambler, 267-460-8949), which gives out free margaritas. It stays open late Fridays and Saturdays to satisfy the bar crowds. Speaking of which: This will be the first weekend in business for The Lucky Well, down the street at 111 E. Butler Ave.
On East Passyunk: The LGBT community's Queers On The Avenue party takes over the Singing Fountain on Sunday from 2 to 5 p.m., and chefs from restaurants around the Fountain - e.g. Noord, Fond, Stateside, Belle Cakery, Izumi, Da Vinci Ristorante and Chiarella's Ristorante - will serve comp or discounted food and drink.