Back in the good old days - when you could make fun of gringos - we had a Tex-Mex chain called Binni & Flynn's. Lively atmosphere, Yankee-fied grub, stiff margaritas. B&F's quarter-century run ended in 2001, not long after the death of founder Richard Coyle. The family stuffed the tchotchkes in their garage. Recently, though, daughter Meridith, who owned a restaurant and catering company in Berwyn that was last known as Aneu, converted it into a Binni & Flynn's. You can go home again. While the decor is a bit more refined than it was back at Gateway Shopping Center, the food at B&F 2.0 is pretty much the same: oversized plates of blow-the-diet enchiladas, tacos and such. You'll find not only Meridith but her mom, Irene, and Meridith's daughter Alexandra, the next generation.
Binni & Flynn's, 575 Lancaster Ave., Berwyn, 610-251-9600.
Notes. Bai Tong is the new name of the short-lived Circles Thai outpost at 126 Bala Ave. in Bala Cynwyd (610-664-0200). Basically the same owners as previous restaurant, Pa & Pa. ... Dettera in Ambler starts brunch this weekend: 11 a.m. to 2 p.m. Saturdays, 10:30 a.m. to 2:30 p.m. Sundays. ... Nanee's Kitchen, serving Indian and Pakistani food, has moved to an end-of-aisle stand at Reading Terminal Market. It is across from Godshall's Poultry. ... No more Little Louie's BBQ in Collingswood. Buttoned up tight.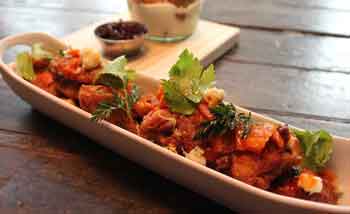 Take me to In Riva. March means spring, and spring means running on Kelly Drive. Art Cavaliere's fine Italian bar, In Riva, sits just off Kelly Drive. Though it's too early for patio dining, the scenery is fine indoors. Cavaliere's take on chicken wings ($10, at left) is clever: They're dry-cured, confit, deep-fried on the pickup, and served in carrot aggrodolce, topped with gorgonzola, celery leaves. In Riva, 4116 Ridge Ave., 215-438-4848.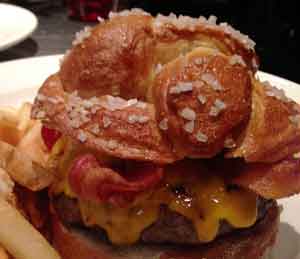 Philly twist on a burger. For Friday lunch and weekend brunch, the Iron Hill Brewery & Restaurant in Chestnut Hill has revived an oldie: the Pretzel Burger ($15.95), whose patty consists of short rib and brisket, topped with smoked cheddar cheese, beer-braised onions and bacon, served on a house-made pretzel roll, baked fresh daily.
Iron Hill Brewery & Restaurant, 8400 Germantown Ave., 215-948-5600.