Ice cream is the dessert of the week. We're talking about small-batch coldness as well as old-time neighborhood parlors. Philly is also home to three of the best shops on the planet - Bassetts, Capogiro and Franklin Fountain.
Phily also happens to be beer central.
Donal McCoy and Neil Laughlin at Sassafras, the Old City mainstay, have rolled out sassafras-flavored ice cream, available on its own (three scoops for $8) or in four beer-float combinations ($10).
The Sassafras sassafras ice cream tastes like the sassafras tea you made in overnight camp, with just a rumor of root beer and liquorice.The float pairings are Crabbies Ginger Beer, Kasteel Rouge, Rodenbach and Youngs Double Chocolate Stout.
Hot dogs and beer on South Street. Chefs will be throwing down from 1 to 4 p.m. Saturday, July 20 at the Head House Shambles (Second and Pine Streets) for the second annual Dog Days of Summer cook-off. Details are here.
Late-night chow. Positano Coast, the upper-level Italian lounge across from the Ritz East at Second and Walnut Streets, just put on a new Saturday late-night menu from 11 p.m. to 1 a.m. Best deals are the antipasto platter (the $20 large will feed a nice-size crew) and the seafood platter ($48 for a large, including Kumamoto and Blue Point oysters, shrimp cocktail, half-shells, snow crab claws and seafood salad).
Blueberry limoncello martinis. Blueberries are always in season, when you find the fruit in Stoli blueberry vodka. Le Castagne in Rittenhouse plays on the summer fruit by converting its housemade limoncello into a martini. You can order one at the bar ($12) or - if you have a week to make your own limoncello - make 'em yourself from their recipe: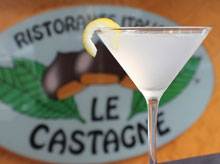 • 10 lemons
• 3 cups superfine sugar
• 3 cups water
• 4 cups vodka
• 1 cup Stoli blueberry vodka
• Ice
Method:
• Zest lemons and place vodka and zest in a large jar
• Cover loosely and let zest and vodka infuse together for one week
• After one week, combine sugar and water in a medium saucepan.
• Bring to a boil – do not stir
• Boil down for 15 minutes
• Take off heat and allow syrup to cool to room temperature.
• Stir vodka into syrup
• Pour vodka over ice in a martini shaker
• Strain into martini glass and garnish with lemon