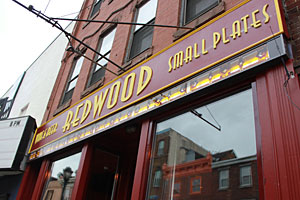 South Street's rep over the years has been one of quick-service restaurants and boisterous bars. Certainly, Copabanana at Fourth and South - which has been dispensing burgers and margaritas since the Bicentennial - deserves credit for maintaining that air. And now Bill Curry, the long-ago Inquirer columnist who runs Copa, has gone genteel in his old age, opening Redwood next door in the spot that he had a takeout shop some time ago. Redwood is casual. mind you, but throws off a grown-up look and feel with a lighting scheme that's subdued and twin 12-bottle Cruvinets - one for reds and one for whites. Menu is easy on the pocketbook, too. Joining Redwood in coming months will be a restaurant from Peter Serpico and Stephen Starr as well as Ralic's on South at 119 South St.
The always outrageous Scott Schroeder (left) - off-color Twitterer and chef at American Sardine Bar and South Philadelphia Tap Room - is exploring his vegan side.
He'll cook dinner Saturday, Nov. 3 at the all-vegan Miss Rachel's Pantry in South Philly - a $50-a-head BYO feed that will include fresh pasta from Le Virtu and comp beer pairings from local and microbreweries featured at SPTR. Two dinner seatings, at 5 and 8 p.m by reservation. (Disclosure: Chef-owner Rachel Klein is my daughter, and owns a restaurant against my wishes.)
Han Dynasty's Cherry Hill outpost is open: Saw Mill Village (404 Route 70).
Sandy, meanwhile, threw a wrench into our lives. And into the sundry Day of the Dead celebrations. Cantina Feliz in Fort Washington - which got power back Wednesday night - will start its Dia de los Muertos on Friday, Nov. 2 and run it into early next week, while sibling La Calaca Feliz in Fairmount has its special running all weekend.
Berwyn now has David Murray at the dinnertime stove at Meridith Coyle's durable Aneu Bistro & Wine Bar. Murray, previously at the Gables in Chadds Ford after a spell at Borgata's Water Club, offers three-course, $35 prix-fixe dinners Tuesday to Thursday and Sunday, and a tight menu of American favorites Fridays and Saturdays. Menus are here. Coyle, whose catering operation and market Fresh Ideas are next door, serves brunch and lunch daily from 9 a.m. to 3 p.m.
Looking ahead to Monday, Nov. 5. Those in the food business can drop by the Moshulu on Penn's Landing, whose chefs Anthony Bonett and Carmine Cappello are throwing an industry night. starting at 8 p.m. Lots of nosh, including house-made charcuterie, octopus and tripe. Special guest will be Tony Clark, who has just taken the chef's job at Valley Forge Casino. If that doesn't appeal to you, how about pastry chef Sandra Valentine's fried red velvet cake.
And looking forward to next week. Tuesday, Nov. 6 is the planned opening of Bainbridge Street Barrel House at Sixth and Bainbridge Streets.