America does not "need" the latest out-there burger from PYT owner Tommy Up and chef Kim Malcolm: Two loaded potato skins serve as the bun. Cheese fries come on the side.
I suppose it's more logical than the recent burger that used fried lasagna as the bun, and it's less disgusting-sounding than the bacon cheeseburger they offered on a split and grilled Tastykake Koffee Kake.
PYT, Piazza at Schmidt's, 1050 N. Hancock St.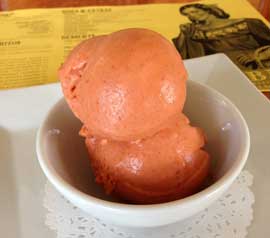 Hello, helado. Michael Poole is on to something at Isabel BYOB, his light Latin charmer at 2601 Pennsylvania Ave. off the Parkway in Fairmount.
He was browsing the aisles at Cousins supermarket in Kensington recently and picked up Mamey Sapote, a fruit indigenous to Mexico and Central America. It's perfect for smoothies and ice cream because of its inherent creaminess, he reasoned.
Voila: He makes Mamey Sapote ice cream.
Isabel BYOB, 2601 Pennsylvania Ave. (aka 2601 Parkway)
In brief: Mitch Prensky, owner of Supper restaurant on South Street, will grill summer veggie burgers at the Manayunk Arts Festival (June 22-23.) In partnership with MorningStar Farms' "Feel Good Grilling Tour." He'll hand out samples of his Dixie Griller Burger made with pimiento cheese and fresh corn relish. ... Hummus Grill has opened its Center City location at 212 S. 11th St., while new-in-town BurgerMonger sets its Philly area premiere for Monday, June 24 at Willow Grove Park mall.