The "black and blue" burger - topped with bacon and blue cheese - is pretty much a staple nowadays at better burger shops. Then what - as I asked recently after sampling the version at Wimpys Original in Upper Providence outside Media - made this one so special? It wasn't necessarily the bacon. Not the blue cheese, which was crumbled on top and not blended into the beef patty, either. It had to be the deep-fried banana peppers curled on top. Don't eat this burger right away. Wait 10 minutes until - in a Lipitor-worthy bit of culinary magic - the chipotle ranch sauce melts the breading on the peppers into the sandwich.
Also on our burger list: Smashburger - a chain with a Philly-area presence in Glassboro (may I suggest the truffle mushroom Swiss?) - says it will open on the Main Line (550 E. Lancaster Ave. in Radnor) on Aug. 7. More than a dozen more Smashburger shops are poised to open in the Philly market.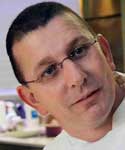 Atlantic City Food & Wine Show. Going on right now and all weekend at various Caesars casinos, the A.C. Food & Wine Show has a packed schedule of dinners, demos, wine tastings, and a culinary extravaganza known as the Grand Market (at Bally's). The lineup includes Robert Irvine (Restaurant Impossible, at right), the Neelys and Rocco Dispirito. See info here.
Tacos for all. Shifty's Taco, opening next month in Brewerytown, is doing pop-up parties this weekend. Like its Facebook page and you're eligible to get three tacos and a cold Tecate.
Cars on the Avenue. The eighth annual Car Show & Street Festival brings cars (the classic kind) and street food to East Passyunk Avenue on Sunday, July 28. Info is here.