"Early February" is the target for a vegan fast-fooder just off Rittenhouse Square.
Nicole Marquis, who was a manager for two years at the late vegan destination Horizons, is behind the still-unnamed shop at 127 S. 18th St., the former Pad Thai Shack, between Sansom and Walnut Streets. (Marquis' working name is Marquis & Co.)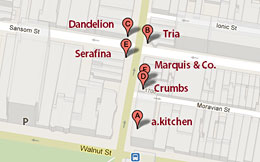 Horizons chef-owner Rich Landau, about to open Vedge later this week, consulted with Marquis. "It's delicious food you can sink your teeth into," she says about her burger-and-fries menu, all made without animal fats.
She's heavily into environmental issues and plans to send the compost material back to the farm that supplies her produce.