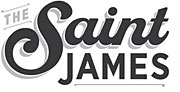 Rob Wasserman (Rouge, 500 Degrees) and chef Michael Schulson (Sampan, Izakaya) are gearing up for their year-in-the-making bistro in Ardmore's Suburban Square, The Saint James (30 Parking Plaza, 610-649-6200).
The guys, shooting for late September, say they're offering a solution to those Main Liners who complain that the hood lacks a refined, welcoming American restaurant that doesn't charge an arm and a leg.
Rustic-meets-modern design, designed by Chris Sheffield of SLDesign. features a main dining room and bar, fronted by floor-to-ceiling windows and separated by a skylit foyer. The dining room's leather booths will wrap around the entire space and enclose wooden tables and chairs in the center. Patio will seat 50 outside.
Executive Chef Matt Moon, who was part of the kitchen team at Talula's Table in Kennett Square after the departure of Bryan Sikora, will run The Saint James kitchen. Menu items will be priced at $6 to $24; lunch, dinner and late night.
Sample items: Trout Dip with "everything" bagel chips; Peekytoe Crab Toast with lemon aioli and dill; Grilled Flatiron Steak with shallot and compound butter; Grilled Tuna Steak with avocado, tomato and chili; Roasted Half-Chicken with lemon marmalade and celery; sandwiches such as Shrimp Roll with butter lettuce, lemon and tarragon, and pork sandwich, with spicy kale and sharp provolone. There will also be an extensive raw bar.
Beer, cocktails, wines by the glass ($8-$12) and by the bottle ($30-$60).
After 5 p.m., they'll offer valet - a nod to those who insist Suburban Square needs it.