Three Stephen Starr alums are behind District 611, a rustic, brick-oven pizzeria slash New American BYOB, due to open Nov. 17 at 710 Broad St. in Riverton, Burlington County.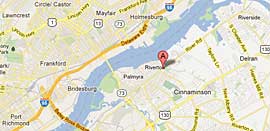 Brian Baglin (a former general manager at Pod), Catherine Piotrowski (a former general manager at Continental in Old City) and executive chef David Perini (also from Continental) want to serve the community with a quality bistro offering a see-and-be-seen atmosphere; a wood-burning oven will be set up in the middle of the dining room. Restored barn wood-lined walls will hold "grow" containers of fresh herbs and spices.
Perini plans to source local ingredients from nearby Hunter's Farm as he mixes classic and new-age ingredients, e,g, San Marzano tomatoes and Indonesian Kecap manis. Sample dishes: steak frites, bahn mi spring rolls, breakfast potato skins, pizza Margherita, pizza pesto with pancetta and gorgonzola cheese, and pagnotelo, an Italian sandwich featuring pizza dough.
Developer Jim Brandenburger, who lives in Riverton, is an investor.
District 611 plans to hire 50 to 60 employees from the area, and run initiatives including free meals for uniformed officers and sponsorships for local youth organizations.
The name comes from "Broad Street" in Riverton as it also pertains to Broad Street (aka Route 611) in Philly.
Map via Google