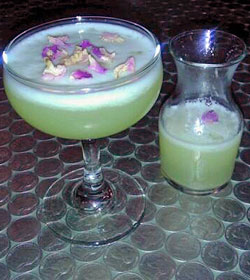 The bar Hop Sing Laundromat (1029 Race St.), now in semisoft-opening mode, is refining its drink menu.
Being offered tonight is something called Bells of Brotherly Love, whose description reads: "Here is one to an individual who has ruled Philadelphia with an iron pen/keyboard for over 14 years. Not much is known about this handsome gentleman except he is known to bring tears to grown men and women in the dining world..."
It contains Chinaco Tequila Blanco and fresh-squeezed pineapple juice (per order), lime juice (also squeezed per order), and Domaine De Canton ginger liqueur. Available with gin or vodka.
The joke is on Hop Sing, if they think this "Bells" drink can be correctly linked to ... oh, I dunno ... The Inquirer's Craig LaBan. Everyone knows he sticks to beer and brown liquor.
"I just hope to get into that place some day, but not to try this drink," said LaBan, who was intrigued at least with the tequila.
He professed to being honored, while quibbling with the "tears" description.
"He should add 'tears of joy,' in some cases. It's not all death and destruction."
(A noble no-bell effort.)