The Triangle is closed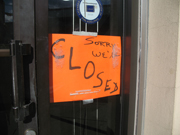 That's what a sign on the door of South Philly's Triangle Tavern says. Its liquor license has expired, according to state records.
The Triangle is closed

The Triangle, which was sold out of the Patrone/Praietta family in 2001, closed voluntarily recently.
State records say its liquor license was not renewed. It served a five-day suspension in September after it was cited in early 2007 for serving minors and visibly intoxicated persons.
The bar, at 10th and Reed in South Philly, made news over the summer for an alleged hate crime.
Owner James H. Dachino, who took over the Triangle in 2005, could not be reached for comment.