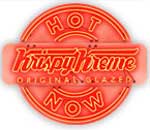 Krispy Kreme is giving away free doughnuts for Fasnacht Day (or Mardi Gras).
Anyone thinking, "Oh, poor Krispy Kreme. They're really taking a bath today," is mistaken.
Though he declined to disclose specific numbers, Krispy Kreme franchisee Brian Zaslow said sales at his four area shops would be up 30 percent today. (Baking Management estimated last year that Krispy Kreme sold 29.3 million doughnuts a year chainwide.)
"Everyone buys some," Zaslow said. "If they don't, it's fine, too."