For decades, the J&J Trestle Inn at 11th and Callowhill Streets was one of those places, a down-and-dirty strip club behind a rusty iron gate and hand-lettered "Commit No Nuisance" sign, beneath the Reading Viaduct north of Chinatown.
In 2003, as the real estate market began picking up in this emerging loft district (Callowhill), entrepreneurs Josette Bonafino and Ian Cross bought the building with the idea of creating a kitschy, retro bar -- a postmodern version of itself. The Trestle's previous management remained as a tenant until closing in November 2009. Demo work started soon after, but a fire in June 2010 not only set Bonafino and Cross back, but destroyed some original furnishings they wanted to keep.
On Tuesday, Oct. 18, the Trestle Inn reopens as a 1960s and '70s-themed bar and entertainment venue. Whiskey, craft bourbons, and rye are the drink of choice, and there is a whiskey sour menu. Fourteen beers are on tap, including two hand pumps.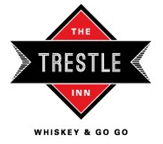 Go-go boxes will accommodate Barbarella-clad dancers most nights, grooving to all kinds of tunes: French pop, blue-eyed soul, psychobilly, funk, garage and disco, says Suzanne O'Brien, the managing director, a vet of the Khyber Pass, Cantina Los Caballitos, and the Palm. The performers will keep it sexy. "They won't be stripping," she says. "They will be wearing what girls in 1967 were wearing when they went to a party."
Chef Travis Messner, last at Arrow Swim Club, will oversee a menu of from-scratch bar snacks (including pickled pigs' feet and beef jerky), bone marrow, pigs in a blanket, pickles, deviled eggs, salads, sandwiches (including bison meatloaf), and, maintaining the retro air, assorted casseroles, such as green bean, Thanksgiving pot pie, and mac and cheese.
O'Brien says a stage will be constructed after New Year's to accommodate regular DJs, bands, burlesque, and performance art.
The neighborhood, now home of such nightspots as Union Transfer and Prohibition Taproom, will also see Arts Bar, in the Underground Arts space in the Wolf Building at 1200 Callowhill St.
Trestle Inn on Twitter, Facebook, and on the web.