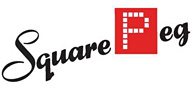 Square Peg - Barry Gutin and Larry Cohen's bilevel restau-bar replacing the Marathon Grill at 10th and Walnut Streets - will not rush into full-bore operation.
Wednesday, March 21 at 4:30 p.m. is the projected start of a two-week "preview" for dinner, when a limited amount of reservations will be taken. Lunch will start a two-week preview on Thursday, April 5, when a limited amount of walk-ins and reservations will be taken.
Executive Chef Matt Levin (ex-Lacroix, Adsum), who started cooking in his new kitchen over the weekend in the space, will offer diner-inspired food along with drinks (domestic micro-distilled spirits, craft beers, cocktails, spiked milkshakes).
Sample dinner menu ($5 for sides up to $24 for mains): fish & chips with green curry and malted mayonnaise; cheesesteak pot pie; and meat loaf with "smashed" potatoes, braised cipollini onions and bacon-Heinz 57 marmalade. Sides: collard greens with ham hock and hot sauce; and grilled corn-off-the-cob with lobster butter.