Spiga coming to 13th and Locust
It's billed as a modern Italian restaurant from the Le Castagne team.
Spiga coming to 13th and Locust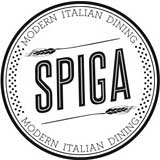 One of the bigger secrets is the Italian restaurant under construction at 1305 Locust St. by the team at Le Castagne. (The deal was signed last summer.)
At least I can now tell you the name: Spiga. Brian Wilson will slide over from Le Castagne to be chef.

Opening date does not seem to be far off.
Spiga will occupy the spot that we old-timers remember as Girasole (before it shut down and later resurfaced at Broad and Pine). More recently it was Pelican Bay, a seafood house, and a series of forgettable bars.