Restaurateurs Rob Wasserman and Michael Schulson, buddies for a dozen years, are going into business together, outfitting a space in Ardmore's renovated Suburban Square for an American grill to be called St. James Place. It's after the street name.
Due in April.
"Affordable, good food" is the line from Schulson, who chef-owns the Asian-inspired Sampan in Center City and Izakaya in Atlantic City. "We didn't think we had to remake the wheel," said Wasserman, who with his wife, Maggie, owns Rouge on Rittenhouse Square.
They seek a homespun, garden vibe (and courtyard seating) — "sophisticated enough," said Wasserman, but a place where locals would feel comfortable for weeknight drop-ins.
The menu I saw holds appetizer prices under $14 and entrees under $27 (rack of lamb), with themed nightly specials. The basics. Roast chicken and salmon, pick-your-own sides, flatbreads.
Wasserman and Schulson complement each other -- Schulson with the culinary background and Wasserman with an operations background.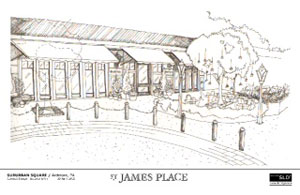 They met 12 years ago when both lived in Museum Towers. This was shortly after Schulson returned from working in Japan, while Wasserman was in the import-export business with extensive travels in Asia. Wasserman later got into the restaurant business by buying Rouge, which his father-in-law, Neil Stein, had founded and operated before his legal troubles. Wasserman and his wife, Maggie, also own the Sansom Street burger shop 500º.