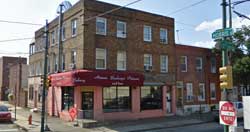 Chris Scarduzio, chef/owner of Table 31 and two Atlantic City restaurants, is going into 12th and Morris Streets - just off East Passyunk - with a bistro.
As he's said before, it won't be Italian.
Passyunk Post, the blog by Daily News assistant city editor Albert Stumm, got him to talk about the project, whose big challenge is the condition of the building.
Stumm divulges:
Pomegranate architects is designing the new building with prep kitchen in the basement and the restaurant on the first floor with about 50 seats and a bar. Fling-out windows will go on both sides and up to another 30 seats could go on the sidewalk outside. Two apartments are planned for the second floor and two bilevel apartments with roof decks are planned for the third and fourth floors.
Read the post here.