Nearly two years after debuting Sbraga at the Symphony House (440 S. Broad St.), Kevin Sbraga is working on his second restaurant.
Philly's Top Chef winner just signed a deal to open The Fat Ham in the Left Bank in University City (3131 Walnut St.), which will replace the Tria wine bar that closed in May.
The Willingboro-bred Sbraga says he was inspired to open a Southern restaurant when he added country fried lobster to the menu at Sbraga, whose concept is dubbed modern American. The response, he said, touched a nerve.
The Fat Ham will draw from dishes found at Sunday suppers and on country porches.
Expect a pork-centric menu using Southern staples such as sorghum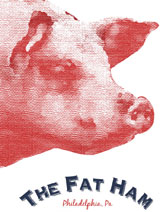 butter, benne seeds, pimento cheese, Carolina gold rice, house-made pickles, hot sauce, buttermilk, and fresh macaroni.
Sample dishes: Country Fried Lobster with succotash, Smoked Lamb Ribs with green beans and ham, Pigs Feet with smoked gemelli pasta and tomato gravy, Kale Salad with benne seed, peanuts, and hot vinegar dressing, and Pepper-Crusted Bacon with quail egg, coffee, and arugula.
The cocktail menu will focus on bourbon and whiskey, and there will be two cocktails on tap, alongside craft beers and Southern brews by the bottle.
He's hired Ed Eimer of Eimer Design - who designed Sbraga - to assemble an eclectic combination of glasses, tableware, chairs, and artwork.
Sbraga says "fall" for The Fat Ham. He is giving me unfettered access to the creative process, so we can all follow along on this blog.