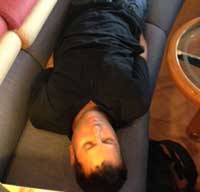 If you see Norwegian seafood on the menus at Blackfish, Ela, Mica and Sbraga in the coming months, you can chalk that up to a junket that chefs Chip Roman and Kevin Sbraga are taking right now.
They're being wined and dined - and more important for Roman, an avid fisherman - sailed around the fjords, courtesy of the Norwegian Seafood Council.
The pace is nonstop, and is quite jarring to their systems because the July sun never sets in this part of the world. "This trip is like The Amazing Race," Sbraga texted Wednesday. "Chip is on his fourth city in three days, and I'm on my third city in two days."
(At right, Roman trying to snooze on a boat.)