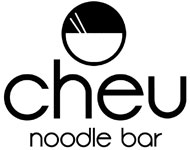 Last month's outcry from Asian activists has led entrepreneurs Shawn Darragh and Matyson chef Ben Puchowitz to drop the name "Roundeye Noodle Bar" from their business plan.
They're now scouting a location for Cheu Noodle Bar. "Meaning behind Cheu: Very simple," they said in an e-mail blast. "Chewy is the style of noodles Ben and I like. Not hard, not mushy.. just Chewy."
Meanwhile, they've scheduled a third "pop-up" of their concept, April 1 at Matyson restaurant.
Menu is at their website, still roundeyenoodle.com