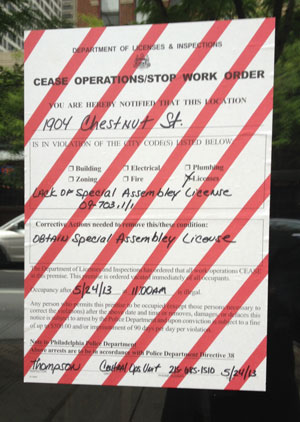 The Department of Licenses and Inspections rolled out a candy-stripe "cease operations" sticker last weekend on Industry XIX, a second-floor lounge at 1904 Chestnut St.
It lacks a special assembly license, a $100 piece of paper required for restaurants, bars, catering halls, nightclubs and other gathering places with dancing and a lawful occupancy of more than 50 people.
Industry XIX's website - which is down - is registered to Justin Carson. A phone number linked to Industry XIX was disconnected.
Industry XIX is not affiliated with two legit establishments: The Industry, a bar in Pennsport, and XIX, the posh restaurant on the 19th floor of the Hyatt at the Bellevue.