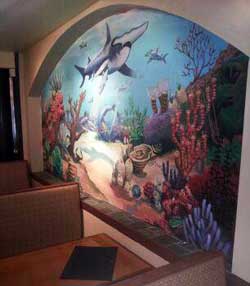 David Ralic is shooting for a mid-November opening of Ralic's on South, his 180-seat seafood-themed sports bar at 119 South St., and now he needs the chef.
Qualities: creative, hard working, and understands kitchen management and food costs.
(Well, of course.)
Ralic, who owns a steakhouse in Haddonfield, is buying a dozen 50-inch flat-screens to be distributed among the four rooms. A large bar along South Street includes 20 stools and a dozen taps, which will pout local crafts. The bar also will serve American wines and fresh-squeezed juice cocktails. There's a small lounge off the bar, a main dining room, and a back bar, which will include live music and can accommodate 60 for private events.
Bielings of Burlington, N.J., is creating a three-dimensional ocean-themed exterior as well as undersea murals and design effects.
And talk about large tentacles. A giant octopus, the size of a small SUV, will sit above the restaurant's entrance.
Applicants can email resumes to Info@RalicsSteakhouse.com, and are asked to note the position that they are applying for in the subject line.