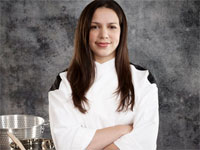 When Christina Wilson returned last year from taping season 10 of the Gordon Ramsay Hell's Kitchen cooking competition on Fox, she upped and quit her chef de cuisine job at Mercato, the BYOB on Spruce Street.
But, she told me, don't read anything into this. She left for "a dozen small reasons," she said. Not for one big one: That she was prepping to become the $250,000 exec chef at Gordon Ramsay Steak at the Paris hotel in Las Vegas.
In fact, as recently as two weeks ago, Wilson insisted that her next cooking stop would be at a restaurant in Cape May, N.J., next summer.
And here she was named the winner on Monday's show, selected over Justin Antiorio.