Philadelphia asserted its culinary cred on a national stage this month when four of its own received the most prestigious awards in the food-and-drink industry from the James Beard Foundation.
The four Philadelphia-area winners are a diverse bunch: an entertainment-business lifer (Stephen Starr), a chef raised in two countries (Michael Solomonov), a chef from Cherry Hill who worked around the world (Greg Vernick), and a thwarted English major who became a pioneer in craft beer (Sam Calagione).
We know what they're up to, professionally, anyway. Starr, who won the Beard for best restaurateur, owns 32 restaurants from New York to Florida. Solomonov, who won for outstanding chef, is a partner in Zahav, Abe Fisher, Dizengoff, Federal Donuts, Rooster Soup, and Goldie. Vernick, best chef in the Mid-Atlantic region, owns the popular Vernick Food & Drink in Rittenhouse. Calagione, the year's top wine, spirits, or beer professional, owns the Dogfish Head Brewery empire and new brewpub in coastal Delaware.
Let's get personal.
What was your first food job?
Calagione: Waiting tables at a harborfront bar in Booth Bay Harbor, Maine.
Starr: I was 15 and I worked at W.T. Grant's in the department store restaurant as a dishwasher and short-order cook. I couldn't do eggs over easy. The vice president of W.T. Grant was coming in, so I practiced for two days breaking eggs. I still messed it up.
Solomonov: Making bourekas in a bakery on Weizmann Street in Kfar Saba, a small city north of Tel Aviv.
Vernick: Scooping water ice at Lucy the Elephant in Margate, N.J. Also, managing the hot dog roller.
What are you listening to?
Calagione: Late '70s and early '80 punk and hip-hop.
Starr: Only the stuff my daughter Sophie sends me.
Solomonov: The xx, Chet Baker, and the Record Company.
Vernick: Alicia Keys on Pandora, and the book on my phone is 32 Yolks by Eric Ripert.
What are you reading?
Calagione: I'm on a massive David Foster Wallace jag.
Starr: Lots of nonfiction -- the boring stuff. Politics.
Solomonov: Emails, unfortunately.
Vernick: The Gjelina cookbook, and, so far, it's excellent.
What do you eat for Sunday-morning breakfast?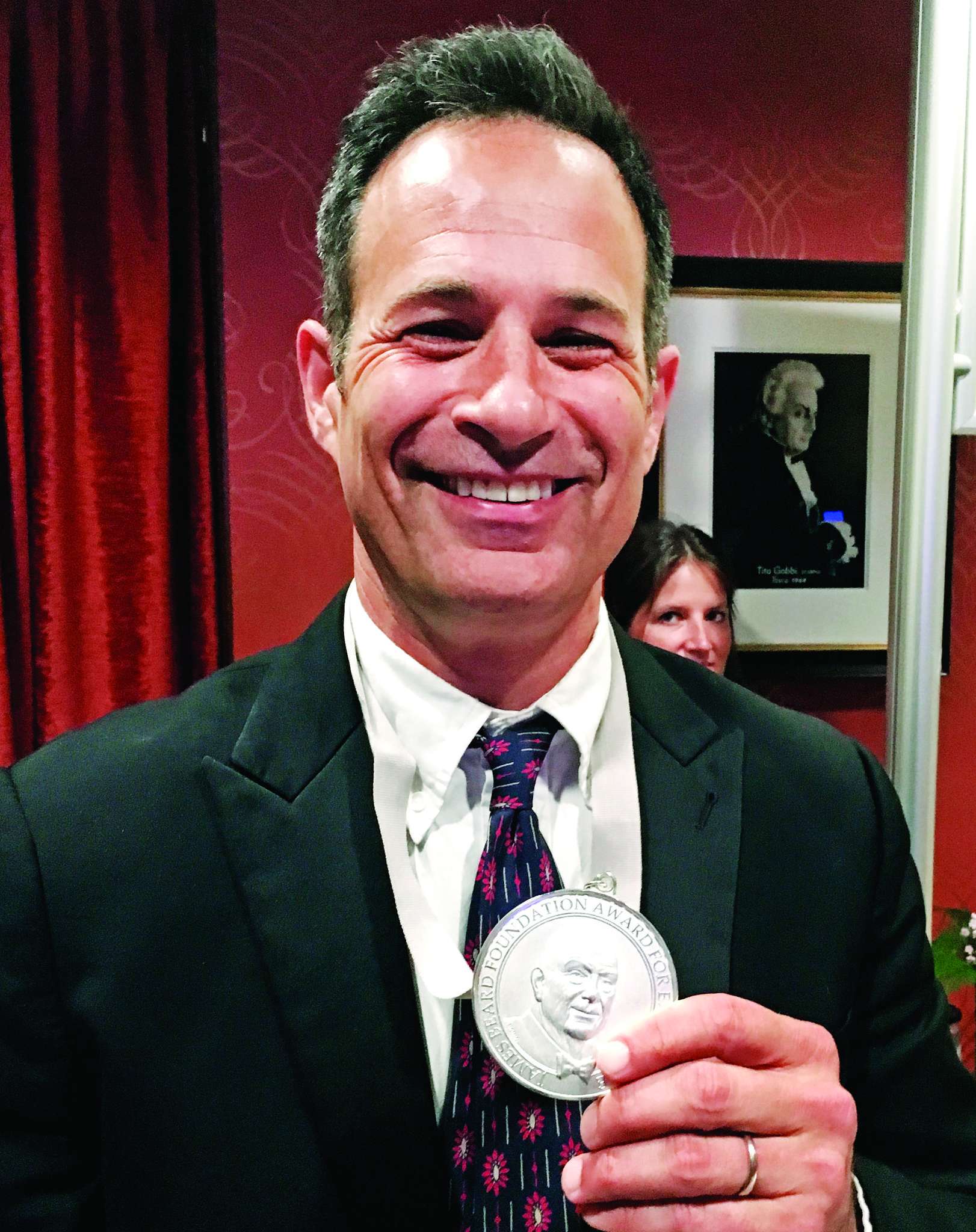 Calagione (at right): Most mornings, I have chocolate Shakeology. On Sundays, I treat myself to a rich, decadent version with blueberries, bananas, coconut, and almond butter.
Starr: I ride over to Famous [Deli] and pick up sable.
Solomonov: Pho 75.
Vernick: Occasionally, we have breakfast with my parents and Mom cooks. She usually mixes it up.
What do you do to relax after work?
Calagione: I paddleboard around the harbor in Lewes and take an hour bike ride through Cape Henlopen State Park.
Starr: I don't relax after work.
Solomonov: Drink mint tea and watch horror movies.
Vernick: Have an amaro and watch TV.
What is your guilty pleasure food?
Calagione: A cheesesteak -- grilled onions, mayo, pickles, and sweet peppers.
Starr: Potato chips and Vlasic kosher dill spears.
Solomonov: Reese's Peanut Butter Cups.
Vernick: Pizza all day.
What is your go-to drink?
Calagione: Our SeaQuench Ale. I worked on the recipe for over two years. It's a mash-up of kolsch, gose, and berlinerweiss with sea salt from Maine.
Starr: Iced tea.
Solomonov: Club soda with ice and a lime.
Vernick: Dunkin' Donuts iced coffee.
Where do you go to get away from the industry?
Calagione: Music and reading -- and I really don't read beer books.
Starr: Long Beach Island.
Solomonov: I head down to the Jersey Shore to surf, or in the winter, I snowboard.
Vernick: Portland, Maine, with my family.
If you weren't in the business, what would you be?
Calagione: I'd be an English teacher. Look at any successful entrepreneur, and you realize that branding is storytelling.
Starr: Lorne Michaels. I want to produce TV.
Solomonov: A tour guide.
Vernick: Rick Steves (the travel guru). Dream job.
What is your next big project?
Calagione: We're releasing a distilled spirit called Sonic Archaeology related to [the PBS documentary] The American Epic Sessions [in which ordinary people in the 1920s got the chance to record music]. Sony asked us to do a beverage. We use local apple brandy, our whiskey, and our rum with pomegranate and lemon juice. It comes prebottled.
Starr: Leave me alone.
Solomonov: We're opening Federal Donuts and Dizengoff in Miami very soon, and we all can't wait.
Vernick: New chairs for our dining room. Cushions!