Chefs-brothers Justin and Jonathan Petruce are back together again, as Justin has joined Michael Schulson's restaurant empire, where Jonathan is the recently hired culinary director.
Any joy is tempered by the news that Harp & Crown chef Karen Nicolas has stepped aside for health reasons. Nicolas, 41, said she had persistent symptoms last year while opening Harp & Crown with Schulson and his wife, Nina Tinari-Schulson. "First, I was misdiagnosed with rheumatoid arthritis, but I wasn't getting any better. Then I learned I have lupus myelitis." The neurological disorder often causes paralysis. She was in and out of the hospital.
Now, she said, "I want to give myself a chance to reverse it. That's hard to do in a kitchen environment. I need a break." She credits the Schulsons for standing by her. "I thought for sure, they'd fire me," she said. "But they've been unbelievably supportive."
Michael Schulson said he expects her to come back.
Meanwhile, Justin Petruce - the older one, whose previous gig was culinary director for Nicole Marquis' vegan empire (HipCityVeg, Bar Bombon, and Charlie was a sinner) - has stepped into the chef's role at Harp & Crown, at 1525 Sansom St.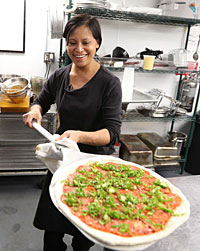 The Schulson Collective includes Sampan, Double Knot, Independence Beer Garden (which reopens for the season April 27), and Izakaya in Atlantic City.
Schulson also is developing an Italian restaurant with the Termini bakery family of South Philadelphia; Home Studios, up for a James Beard design award this year for L.A.'s Gwen, is doing the interior.
The Petruces owned and operated the wood-fire grill Petruce et al. at 1121 Walnut St., which closed early last year, just shy of two years old.
Jonathan Petruce left Center City's Cinder in February.
Photo: Karen Nicolas, by David Swanson / Staff