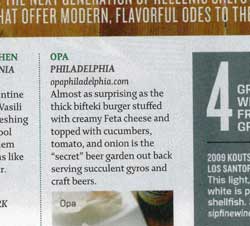 Congrats to George and Vasiliki Tsiouris, whose modern Greek spot Opa (1311 Sansom St.) was named one of the best new Greek restaurants in the country by Details mag.
It's praised for the bifteki burger and the "secret beer garden out back serving succulent gyros and craft beers."
The piece also plugs the forthcoming Kapnos opening in Washington, D.C., from Mike Isabella, the alum of Top Chef plus Philly restos Alma de Cuba and Washington Square.
I don't see the story online yet.