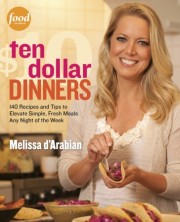 Melissa d'Arabian, who parlayed her win on the fifth season of Next Food Network Star into the shows Ten Dollar Dinners and Drop 5 lbs, is now an author.
Ten Dollar Dinners ($24.99, Clarkson Potter) - catchy! - is a compendium of 140 recipes and a bunch of home-ec tips.
D'Arabian will visit the area on Thursday, Aug. 16 for a noon signing at the Williams Sonoma in King of Prussia and a 4 p.m. signing at the Wegmans in Warrington, Bucks County.
D'Arabian, mother of four girls (ages 7, 6, and 5-year-old twins), says she learned to cook lavishly but frugally while growing up with a single mom who put herself through college and medical school. Then Melissa put herself through grad school.