Iron Chef Bobby Flay is barnstorming the U.S. in support of Bobby Flay's Barbecue Addition, his new cookbook.
You can meet him at two Philly-area stops: at noon Friday, April 26 at the Williams Sonoma store in the King of Prussia mall. (His appearance at 6 p.m. Friday, April 26 at the Wegmans store at 50 Foundry Way in Malvern is sold out, but you can buy a book there and glimpse him from afar.)
Like many free book signings, you have to buy a book in advance to get in line.
Williams Sonoma is still accepting walk-in or phone reservations for the appearance in King of Prussia. You can call 610-265-5970 and order the book ($35). Note that Flay will only personalize copies of Bobby Flay's Barbecue Addiction purchased at Williams-Sonoma.
I'm going to make this easy for one reader. I'll get you through the line at the Williams-Sonoma stop for an autograph and a free book. Williams-Sonoma also will give you a nifty prize pack for you home grillers: a stainless-steel smoker box, stuffed burger press and grill wrangler.
Sweepstakes entry is here.
Enter by 4 p.m. Thursday, April 25. Winner, chosen at random, will be notified right away.
Update: Our winner was Hugh McGinniss of Chalfont, who got to meet Flay with his wife, Jennifer.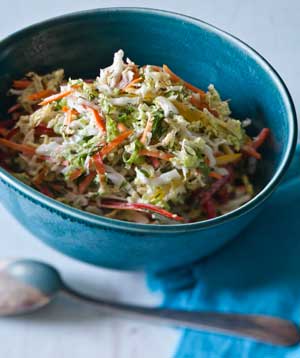 Here's a recipe from Bobby Flay's Barbecue Addiction for Coleslaw with Creamy Cumin-Lime-Dill Vinaigrette:
Serves 4 t o 6
½ cup mayonnaise
Grated zest of 1 lime
¼ cup fresh lime juice
1 teaspoon celery salt
½ teaspoon cumin seeds, toasted
1 tablespoon sugar
¼ cup chopped fresh dill
Kosher salt and freshly ground black pepper
1 head Napa cabbage, finely shredded
1 large carrot, julienned
1 red bell pepper, julienned
1 yellow bell pepper, julienned
1 small red onion, halved and thinly sliced
1. Whisk together the mayonnaise, lime zest, lime juice, celery salt, cumin seeds, sugar, and dill in a large bowl and season with kosher salt and pepper.
2. Add the cabbage, carrot, bell peppers, and onion and toss to coat in the dressing; season with kosher salt and pepper. Cover and refrigerate for at least 1 hour and up to 4 hours before serving.