Lorenzo & Sons, the South Street pizza landmark destroyed by fire on June 27, 2012, is targeting a soft reopening on or about April 29, says owner Giuseppe Pulizzi.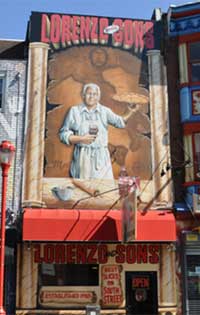 Pulizzi is in painting mode. The next step will be a wrapping of the building. Pulizzi said he got one of those companies that wraps buses to create a facade-size covering for 305 South St. The original facade had wood over the windows, which would not be allowed now under zoning regs.
The wrap will cover the windows, which will be operable. He also is having an awning installed, and a series of LED lights to make the building stand out at night.
Lorenzo's - whose pizzas measure 28 inches across - is anything but subtle.
Although Lorenzo's never offered toppings, Pulizzi says he will relent - but only on Tuesdays. And he said he means it. Since the pizzeria is open from 11 a.m. to 4 a.m. daily, he insists that he will stop offering toppings at 11:59 p.m. Tuesday. Why not allow them to be served after midnight?
"Because then it will be Wednesday," he replied.
Why Tuesday?
"Because I like Tuesday," he shot back.
All righty then.
The pizzeria's grand opening will be Friday, May 3, and half of the day's proceeds will go to Philabundance. Pulizzi said was making up bracelets that he will sell for $1, with all proceeds going to the hunger-relief group.
Photo: Lorenzo & Son's pre-fire.