Comes a time after two decades, you want to move on.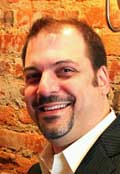 Such as it is with Anthony Masapollo, who worked for Carlo Sena first at Old City's La Famiglia and then at its fancy Rittenhouse counterpart, Le Castagne, from its debut in 2001.
Masapollo became a managing partner at Le Castagne and then at the casual sibling Spiga in Washington Square West.
He left to do his own thing. "I felt like it was time to go out on my own," he told me.