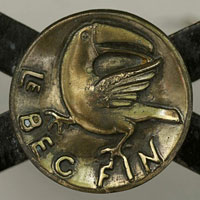 Le Bec-Fin (1523 Walnut St., 215-567-1000) returns Tuesday, three months after founder Georges Perrier ceded it to his former general manager, Nicolas Fanucci.
Fanucci, who stunned the dining world by resigning his post as general manager of the vaunted French Laundry in Yountville, Calif., to buy the Philadelphia landmark, hired a French Laundry alum, Walter Abrams, as chef.
He imported four other French Laundry alums, including Abrams' fiancee, pastry chef Jennifer Smith.
Sommelier Philippe Sautriat comes from Alain Ducasse. Fanucci also commissioned a renovation, subtle yet powerful, by Philadelphia designer John Kelly.
The downstairs bar has been warmed up and is now Chez Georges.
The redo eliminated the front dining room, turning it into a salon/anteroom; the restaurant went from 90 seats to 62 — 44 in the main room and 18 upstairs. Le Bec-Fin also has reverted to prix-fixe-only: $150 at dinner (Monday to Saturday) and, starting June 18, $55 at lunch (weekdays). That $150 tariff is the priciest in the city, a fine-dining splurge in an increasingly small-plate town.
Here is a sampling of Abrams' menu:
Canape
Confit Escargot, Foraged Greens, Consomme de pintade
or
Spanish Mackerel, Rye baked beets, Dijon- fried egg emulsion
Egg pasta filled with lambs neck, Wild sorrel, Coriander
or
Seared Foie Gras, , fraise des bois , caramelized onion brioche
Poached Halibut, Holland leeks, Osetra butter
or
Grilled Langoustines, Tomato, Favas, bonito
Guinea hen, Guanciale, Plum, truffles
or
Dry aged rib eye, morel mushrooms, peas , Red wine croutons
Artisinal cheeses with Local Honey and granola
candied ginger genoise, lime, Lychee
or
Salted caramel mousse, filberts, cola poached cherries
Fanucci promises a return to LBF's heyday, especially anticipatory service.
Though the cheese and dessert carts haven't made the transition, there will be a cart offering mignardises. The bar downstairs will have a classic French comfort-food menu.
See Michael S. Wirtz's video, shot last Friday.