The Daily Meal is out with another of its gotta-click-'em-all slideshows, and this one includes chef-without-a-restaurant Jennifer Carroll.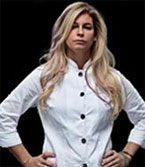 The Top Chef finalist joins such potbangers as Traci Des Jardins, Sue Zemanick, Cat Cora, Susan Feniger, and Michelle Bernstein in a feature called "Top 15 Badass Women Chefs."
"Badass chefs" - as Daily Meal explains - are "the kind of women who do exactly what they want to do exactly when they want to do it without regard for how the public (or critics) may perceive them. Why is it important to single out the women chefs of the country based on their toughness? Because the kitchen is still largely a man's world, with a culture built on harassment, extreme physical and mental endurance, and unpredictably long work days."
Carroll was cited because of her sass displayed during Top Chef and the fact that she had the gumption to leave 10 Arts at the Ritz-Carlton last summer to strike out on her own. "She's a tough-talking, onetime law major whose outsize attitude is matched by a particularly delicate way with fish and seafood that caught master French chef Eric Ripert's eye," says the website.