With Labor Day means restaurant openings and restaurant weeks.
Center City District Restaurant Week runs Sept. 12-16 and Sept. 18-23 at dozens of downtown restaurants. See info here. The promo inspires hangers-on, as restaurants from outside the Center City District offer their own specials. Cheapest I've seen is offered by Le Viet, the elegant Vietnamese on 11th Street above Washington Avenue: a three-course $16.95 special straight through from Sept. 12-23.
In the western burbs, AroundMainLine.com is reviving its Main Line Restaurant Week from Sept. 26 to Oct. 2. Details are here.
And this dovetails into South Jersey Restaurant Week, run by the SJ Hot Chefs, from Oct. 30 to Nov. 4. Details are here.
---
Guillermo Tellez, exec chef of Square 1682, makes the current issue of Art Culinaire, the la-dee-dah food quarterly. Theme is the relationship between the mentor and the protégé -- in Tellez's case, Charlie Trotter.
---
University City District and Farm to City will start a Friday farmers' market in the plaza in front of The Radian (3925 Walnut St.) from Sept. 2 to Nov. 18; runs 11 a.m. to 3 p.m.
---
Here are more details on Conshohocken's 401 Diner, at Fourth and Fayette, whose revival is due on or about Sept. 12. It's from Tom Richter, Peter Richter and chef Michael Cappon, of the nearby Isabella; the comfort fooder's emphasis will be on local, organic and sustainable ingredients -- free-range eggs, whole-wheat pancakes, organic veggie chili, Thanksgiving-style turkey platters made of good stuff. (Breakfast menu and lunch/dinner/late night menu.) The old booths and tables have been replaced with recycled oak church pews and hand-tiled tables, and Tom Richter is creating a hand-cut glass mosaic facade. They're planning 6 a.m. daily openings and will stay open till 10 p.m. Mondays to Thursdays, till 3 a.m. Fridays and Saturday, and till 9 p.m. Sundays.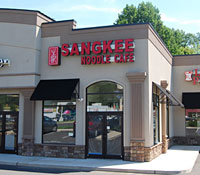 And Michael Chow is moving right along with Sangkee Noodle Cafe on Kings Highway in Cherry Hill. He thinks it will open within a couple of weeks.