Hey, hey -- it's Mémé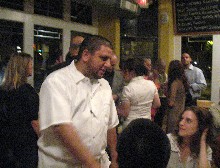 A peek at Mémé, which opens at 22d and Spruce Streets on Monday 9/29.
Hey, hey -- it's Mémé
Chef David Katz cleared out some of the tables at Mémé, his new Fitler Square bistro, and brought in some friends and family for Saturday night bites in anticipation of Monday's opening. Mémé, named for Katz's pet name for his Moroccan grandmother (say it "MAY, MAY") and set up in the former Melograno corner spot, rustic American with an open kitchen, cherry tables and blackboard menu. (He's doing "small-ish" and "larg-er" plates; figure on $40 a person.)
The restaurant, awaiting its liquor license, will be open nightly except for Tuesdays, and for Sunday brunch. Menu is here and here.
Mémé
2201 Spruce St.
215-735-4900