Hesh's Eclair Bake Shoppe, a Northeast Philadelphia institution that sold possibly the world's greatest chocolate-chip pound cake, is out of business after 54 years, according to signs posted in the window Saturday.
The reasons for the closing are unknown. Owners Bill and Sharon Krodthoff, who owned the bakery at 7721 Castor Ave. in Rhawnhurst for at least two decades, did not return phone calls since rumors began Thursday night after an employee posted an emotional message on Facebook.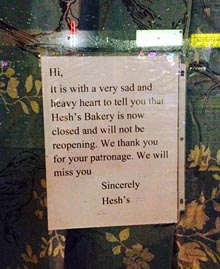 Adding to the confusion was the shop's outgoing phone message, which said the shop would reopen Jan. 14 after vacation. As recently as Friday, the shop's mashgiach - the rabbi who regularly inspected the premises for its kosher certification - did not know of its status.
But late Saturday, the front window was shrouded from the inside with what appeared to be a blue print curtain, and two identical signs told customers: "Hi. It is with a very sad and heavy heart to tell you that Hesh's Bakery is now closed and will not be reopening. We thank you for your patronage. We will miss you. Sincerely, Hesh's." The message also was added to the website.