Gordon Ramsay's Hot Potato dinner: A bust?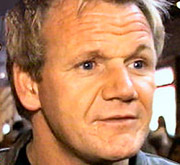 Appears that the TV chef went away hungry after last night's "Kitchen Nightmares" meal in Fishtown. Want to know where he REALLY ate?
Gordon Ramsay's Hot Potato dinner: A bust?

The crew at 10 Arts restaurant in the Ritz-Carlton was surprised around 11 p.m. Tuesday when chef Gordon Ramsay walked in with his people, sans cameras.
Ramsay, in town shooting his restaurant-repair show "Kitchen Nightmares," had just left his tasting dinner at Hot Potato Cafe in Fishtown.
(This is the part of the show when Ramsay -- a three-star Michelin chef -- is served his first meal by simpering staff. It usually results in great TV, what with Ramsay poking through the food to quibble with preparation, ingredients, temperature, textures, mouthfeel, etc.)
Managers agreed to stay open to feed Ramsay, who seemed hungry. He ordered soft pretzels, mini burgers, calamari and mini fish burgers from the lounge menu.
Previously:
The scene at Hot Potato Cafe. (5/19/08)
Gordon Ramsay to make over Hot Potato Cafe. (5/19/08)