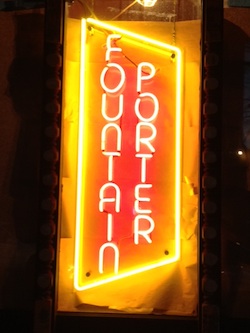 That neon glow at 10th and Tasker Streets in South Philly is a taste of the neighborhood's next bar, due to open just after Labor Day.
It's Fountain Porter at 1601 S. 10th St., which was a search-engine-non-optimized bar called 1601 before it closed in spring 2011.
Fountain Porter operating partner Evan Clancy (a former GM at South Philly Tap Room) describes his joint as an old-school, owner-run corner bar with 20 drafts, affordable wine, and a menu to be determined. "Nothing pretentious." He's partnered with Scott Pawlicky. Both work at the Kite & Key in Franklintown. (Though K&K's Jim Kirk has an ownership interest in Fountain Porter, Clancy emphasizes this is a separate operation - vibe, concept, purchasing, etc. "It's a different ballgame down here.")
Clancy and Pawlicky contracted with neon god Len Davidson on the nifty window signs, which Clancy is firing up for a couple hours each day.
Clancy acknowledges that he'll have competition in the neighborhood, home of taps such as POPE, Cantina Los Caballitos, and Watkins Drinkery. "It's good to have options," Clancy said. "South Philly has enough population to sustain all of these kinds of operations."
The Fountain part of the name is a nod to the Singing Fountain a block away at 11th, Tasker and Passyunk.
Incidentally, that bustling corner is also the proposed site of a recently announced gastropub called Fountainhead, 1537 S. 11th St., backed by Birra's Gordon Dinerman. For what it's worth, the Fountain Porter name has been on the books since last fall and Clancy and Pawlicky registered the FountainPorter.com domain back on Nov. 30.