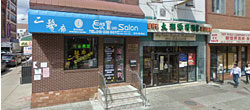 Kenny Poon, who owns Ken Shin Asian Diner at Third and Spring Garden Streets, is about a month from opening Tea-Do, a tearoom, at 132 N. 10th St. in Chinatown - the former nail salon across from the firehouse on the corner of 10th and Cherry Streets.
Poon says he'll focus on bubble tea (remember that?) but will get into hot tea and even ramen as the season changes.
Poon's other project, a long-in-the-works froyo/Korean fried chicken/noodle shop called Soho, is now targeted for the end of the year at 1021 Arch St.
Image: Via Google Maps