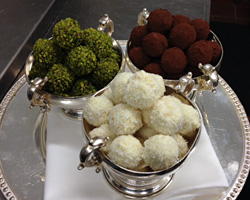 Tonight is the public opening of the revived Le Bec-Fin under new owner Nicolas Fanucci, former general manager of the French Laundry.
Chef Walter Abrams, also a FL alum, just sprung what very well might be the opening menu, served in the dining room for a $150 prix-fixe. Chez Georges, the subterranean bar, will have an a la carte.
Menu is here.
Photo: Truffles from an opening cocktail reception by pastry chef Jennifer Smith.