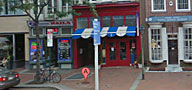 A new restaurant, bar, and lounge is on its way to 312 Market St., which until spring 2010 was Patou.
This project has been long in the works, as management secured zoning approval earlier this year.
Name: Fire & Ice
Food concept: "gourmet comfort food"
Projected opening: Late October or early November
Chefs are being interviewed next week.
Also on the Old City front: That restaurant planned for Front and Market Streets seems to be solidly in limbo.
Image: Google Maps