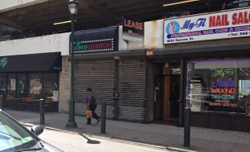 The second Federal Donuts shop is pegged for a former video store at 1632 Sansom St.
As tipped on the Philadelphia Real Estate Blog, owners Michael Solomonov and Steve Cook attended the Center City Residents Association's zoning committee meeting last night to pitch the idea. Given that there's a nail salon next door and just a parking garage above, there's hardly a reason for opposition.
Their rep tells me the coffee-doughnuts-fried chicken menu will be the same as the first shop that opened Oct. 17 at 1219 S. Second St.
Design will be different but inspired by the original. A second hearing is set for next month. If it gets through, Cook says the shop would open in September. Projected hours are 7 a.m. to 7 p.m., but that could change.
Though the city was touting the area around the Sofitel as the French Quarter, a FedNuts on that block will solidify a zone of fat-kid dining - what with 500 Degrees selling burgers, fries, and shakes a block away, and tthe new Underdogs hot dog shop around the corner.

Yes, as a matter of fact this map was created in Paint; base map by Google