Royal Crocovia - the $3.5 million, 250-seat Euro bistro under construction where Magnolia Diner used to be on White Horse Pike in Magnolia, N.J. - has a chef.
Owner/developer Stanislaw "Stosh" Stachowski did not have to go far: Mirko Loeffle previously owned Mirko's A Taste of Europe at 910 Haddonfield-Berlin Road in Voorhees.
Royal Cracovia is due to open in mid-September at 510 White Horse Pike South.
Like the Polish-born Stachowski, the German-born Loeffler is a globe-trotter.
He worked at hotels in Germany, Switzerland, France, Monaco and Italy before he moved to Connecticut 30 years ago and then to Philly, where he was restaurant chef at Between Friends in the Wyndham Franklin Plaza, then chef at the Barclay, and then at the Hideaway in Cherry Hill. He made other stops here, in Atlantic City, and in the Caribbean before his time in Voorhees.
A draft menu for Royal Cracovia is a weighty piece of writing, encompassing virtually every cuisine and preparation developed west of the Caucasus since the Ottoman Empire.
Take the appetizers, which include Escargot Simmered in Herb Mushroom Butter with Fennel Carrot Salad; Spanakopita"; a Polish sampler of two Pierogies, Sliced Kishka, Potato Pancake, Grilled Kielbasa and Sauerkraut; Tuna Carpaccio with Crabmeat, Cucumber and Lemon Oil; Polish Style Pickled Herring with Onion; Russian Style Herring, Chopped and Mixed with Beet, Potato, Onion & Egg; Mediterranean Black Mussels in a White Wine Broth with Grilled Bread.
Pizzas! Sandwiches! Soups! A wood-burning grill for meats!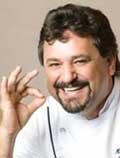 Penne ala Vodka; Orecchietti; Cappellini! English Beef Short Ribs Braised in Onion, Mushroom & Stout Beer Mashed Potatoes; Gotabki; Bigos; Piersi z kaczki!
And so on and so on.
Plus breakfast all day.
(Menu is here.)