Eat-A-Pita, which for my money offers one of the best sandwich lunches in Center City, is starting a monthly dinner.
No pitas and paper napkin affair, this.
Owners Ralph Kane and Jamie Kelly are parlaying their fine-dining backgrounds (including Fork in Old City) into a real dinner menu and white linens.
Their first outing will be July 24 at 7 p.m. They're offering a $35, four-course Maine-inspired menu. (The two worked together at the original Eat-A-Pita in Southwest Harbor, Maine, which opened as a fine-dining restaurant in the evening.)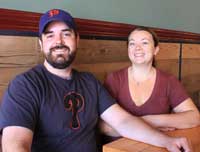 The first dinner will begin with a deconstructed smoked clam chowder, followed by venison pot stickers with a spring pea emulsion, shaved fennel salad, and grilled Maine lobster paella with saffron risotto, Maine shrimp, mussels, chorizo and scallion broth.
Dessert will be blueberry bread pudding soufflé with maple whiskey anglais.
Reserve by calling 215-925-7482 or emailing dinner@eatapitaphilly.com.