Alla Spina - Marc Vetri's Italian beer bar on North Broad - and Zeppoli - Vetri alum Joey Baldino's Italian BYOB in Collingswood - have made Bon Appetit's list of 50 nominees for its top new restaurant award, which goes out Aug. 14.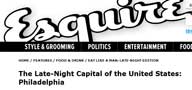 Esquire raves about Philly's late-night dining scene - yes, a city whose bars must close at 2 a.m. - in a multi-image slideshow that will leave you with the early stages of carpel-tunnel syndrome. Among the picks: The Khyber Pass, Standard Tap, and David's Mai Lai Wah, whose pork dumplings, salt-and-pepper squid, and roast duck chow fun get special mention.
Saveur proclaimed Philadelphia "the East Coast's most exciting emerging food town." Emerging? It cites the usual - repeat after me - the Paesano sandwich from Paesano's, the Appollonia doughnut from Federal Donuts, and the Thai coconut gelato from Capogiro as well as three less hackneyed ones: the burrata from Rittenhouse Tavern, the root beer from J&E Homemade Drinks, and the tilapia burrito from food truck Cucina Zapata.
Vedge - Rich Landau and Kate Jacoby's vegan destination in Wash West - is on Shape magazine's list of the top 10 vegan restos in the United States. Also, the couple will join Rick Bayless, Hugh Acheson and a bunch of other chefs on Sept. 21 at a tasting event in New York marking Cooking Light mag's 25th anniversary. (Rich is identified as "Richard" in the press release, so this must be big.)