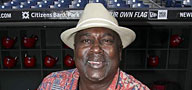 Around baseball, Gary "Sarge" Matthews is known as a great cook.
At noon Tuesday, Aug. 28, the Phillies broadcaster and former Phils outfielder will be behind the stove and not a microphone.
He'll do a cooking demo - his signature shrimp and king crab chowder - at the spiffy new La Cucina demo kitchen at Reading Terminal Market.
The demo came about after a chat between Matthews - a Market regular - and food writer Rick Nichols.
It's free to watch.