Chink's Steaks in Northeast Philly took great pains to rebrand earlier this year as Joe's Steaks & Soda Shop.
But it's possible that the Chink's name - the subject of controversy - will reach a national audience Saturday, Aug, 24.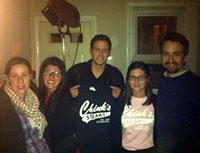 The NBC drama Do No Harm (10 p.m.) shot a scene last year at the shop, before the name change.
Though Chink's isn't named in the script, general manager Stefanilee Mahoney and owner's son Patrick Groh wore Chink's T-shirts as they worked as background actors during the scene, which featured series stars Steven Pasquale and Lin-Manuel Miranda eating at the counter.