Chink's Steaks, the Northeast Philly sandwich institution that has faced heat in recent years over the ethnic slur in its name, says it's rebranding.
On April 1, it will be known as Joe's Steaks + Soda Shop.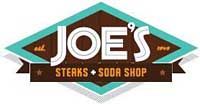 The more prosaic name was chosen by branding specialist David Neff, hired by owner Joe Groh, according to a press release.
It's not clear why the name is being changed now - other than the fact that Groh is looking forward to leaving the business to his son someday.