Chefs celebrating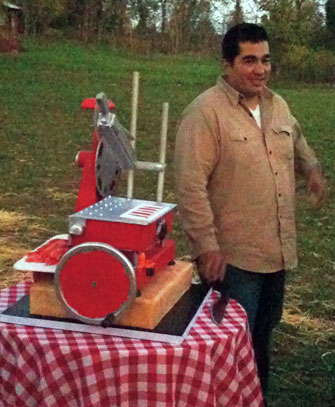 Marc Vetri watches "Iron Chef" while Jose Garces opens his farm for a fifth-anniversary party for Amada.
Chefs celebrating

Marc Vetri gathered a group of friends and family Sunday night at Amis for his appearance on Iron Chef America, in which he went up against Michael Symon. Since so many foodies taped the episode while watching the Phillies, I'll spare any spoilers for now -- but you have till Tuesday.

Jose Garces closed Amada all day Sunday for a staff party at his newly purchased farm in Ottsville, Bucks County, to commemorate his first restaurant's fifth anniversary. Garces hired buses to transport the Philadelphians and got a cake made by Duff "Ace of Cakes" Goldman, which was in the shape of the meat slicer at Amada.